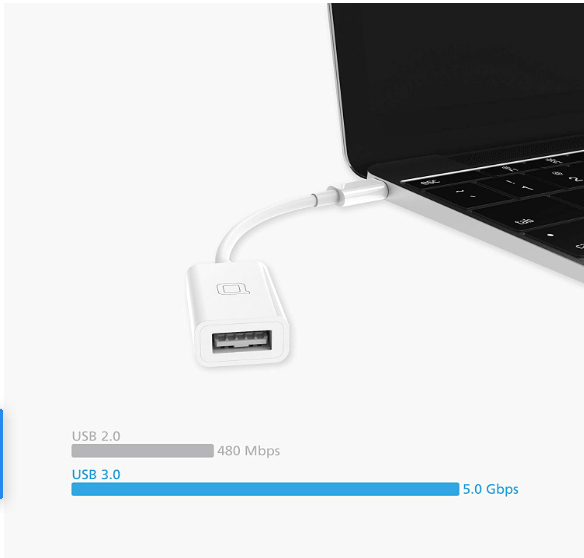 OTG Data Cable Adapter,Type C to USB3.0 OTG Cable, OTG Cable for USB Type C, USB C to USB OTG Cable, OTG Cable Manufacturer in China
Smooth Plug in and out, not loose
Long Life without rust, anti-oxidataion
USB2.0 and USB3.0 OTG Cable for your choice
Color: Black and White, or custom
Inner Core: Tinned Cooper
Shielding: Alumium + Braided
Cable Length: around 15cm
Set Include: 1pc OTG cable in a OPP bag
Q&A:
✷ What's the difference between USB2.0 and USB3.0?
Both don't have outlook difference, but USB3.0 has faster transmission speed, please check my article earlier regarding OTG part. USB3.0 will support USB2.0 protocol too.

✷ Could I transfer files in mobile phone to U-disk?
Yes, after connection is done, then you could transfer files.

✷ Could it be used to connect with USB headphones?
Sorry No, you need to use another adapter cable to connect USB earphones.

✷Could I plug off the U-disk directly after finish using it?
Yes, you could plug off the OTG cable first, then the U-disk.

✷Is it necessary to open the OTG function on mobile phones before I connect the cable to mobile?
Depends on your mobile phones, most support plug and then use, but some mobile phones need to allow OTG function first.

✷Is it possible to charge the mobile phone when I use this OTG cable?
You couldn't charge your mobile phone while you are using this OTG adapter, if you need to charge, you need to purchase a OTG cable with one more socket for charge. Or you connect OTG cable's USB C to laptop and USB A to charge cable's USB A male socket, then you could charge the mobile phone.

✷Could this adapter be used to connect with printer?
No, you couldn't, the printer will not work.

✷Could I transfer files in mobile phones to Kindle?
It doesn't support this function. Could transfer to U-disk.
Customer Feedback:
➸Good workmanship, strong Type C connector, quicker transfer speed, TPE material more durable, white color looks elegant, USB3.0 connector makes the speed faster! Only one word: Stable!
➸Goowell's Data Cable quality is good, it will not loose after connection, you will not worry about storage problem at more.
➸Fast Delivery, Thick cable make you feel quality is reliable. You have good Quality Control!
➸Tried with Xiaomi 9 and Huawei Mate 30, works goods with affordable transmitting speed. ➸ I am happy with the quality, the current could reach up to 4A! So I am sure the cable material is good!
➸OTG wire is really powerful, it could connect with U-Disk, Wireless Keyboard and mouse, and display devices and more.
➸The quality is same as description, good to use and reliable.
➸I used it to connect with digital camera to transfer pictures. Excellent!
➸I used it to connect Guitar Effect to mobile for voice recording, stable transmission and sound quality not effected either.